In the centre of the Paris-London route
Located on the Paris-London axis via the Dieppe-Newhaven (Normandy-East-Sussex) cross-Channel link, VIALOG's offer allows exporters to the UK to benefit from a logistical and industrial bridgehead on French territory, less than 5 hours from London, thus increasing their reactivity to the British market.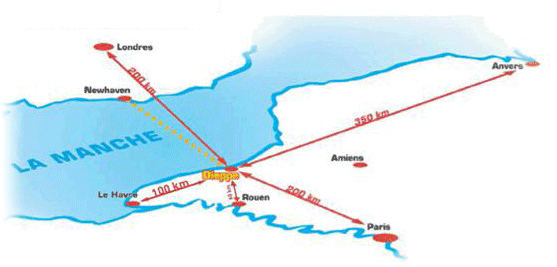 Distances between Dieppe and the main British industrial centres:
London 200 km from Dieppe
Newhaven 4 hours away via the cross-Channel line
Proximity to import flows from Asia
Our companies are located an hour-drive from the Grand Port Maritime du Havre (the major seaport of Le Havre), the leading French port for container traffic.
This proximity to import flows from Asia and China in particular, enables us to intervene on behalf of importers looking for industrial and logistical partners to carry out upgrading to standards, assembly or delayed differentiation or storage before distribution in France, Great Britain or the rest of Europe.